Large Plant & Flower Pots
Rolled Rim Traditional Planter - Plastic
Size

12' DIA X 9' HGT
14' DIA X 11' HGT
16' DIA X 12.5' HGT
20' DIA X 16' HGT
27' DIA X 21.5' HGT
31' DIA X 25' HGT
Color
Description
Our Brunello planter offers the traditional appearance of a clay pot without the fear of breakage.

Durable poly resin construction is easy to clean, lightweight, and won't crack or chip
A classic shape with a rolled rim suits nearly any decor, indoors or out
Seven sizes for endless mixing, matching, and grouping options
Availability: In Stock - Ships in 1-2 business days 27" Slate out of stock
Drainage: Drainage holes standard
Material: Plastic

Colors depicted on your screen may vary from how the planter looks in different lighting situations.

Made of poly resin, the Brunello planter features a traditional rolled rim shape and a strong and durable build that will never crack or fade. Leave it out in the elements for a year and it'll look as new as the day you bought it!

The smallest sized Brunello pots are perfectly suited to placing on an accent table or deck railing, or use larger Brunello pots to fill in bare corners or create definition between outdoor spaces by lining several planters up along walkways or along the edge of the patio. The Brunello planter pot also comes with pre-drilled holes to make planting easy and comes in several classic finishes so you can customize it to your space.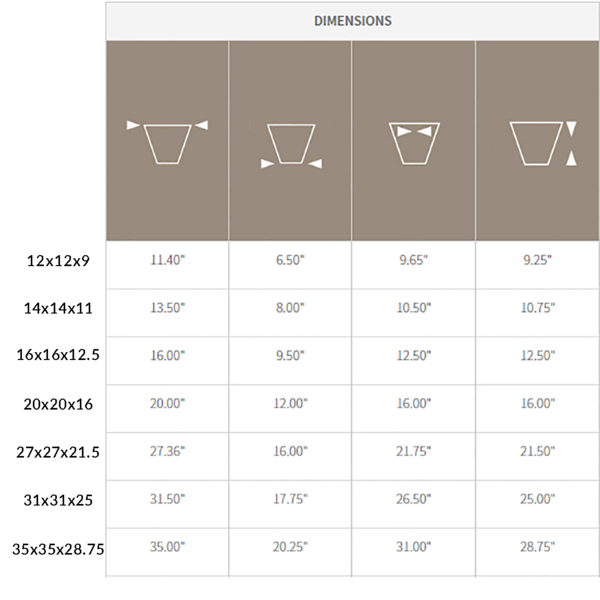 WINAM GROUP
WINAM - Viet Nam Office
Address :A06.10, Republic Plaza Building, 18E Cong Hoa Street, Ward 4, Tan Binh District, Ho Chi Minh City, Vietnam
Phone: +84 28 66 82 7777 / +84 28 66 86 7777
Email : [email protected]
WINAM - USA Office
Address: 23rd Floor, 165 Broadway, New York City, New York, United States 10006
Phone: +1 646 712 9808
Email: [email protected]
WINAM - UK Office
Address: Clockhouse Nurseries, Clockhouse Lane East, Egham, Surrey, TW20 8PG, United Kingdom.
Phone: +44 20 3514 7587
Email: [email protected]