For most, midcentury modern design evokes images of Frank Lloyd Wright-inspired architecture, low-profile sofas and retro '60s lamps.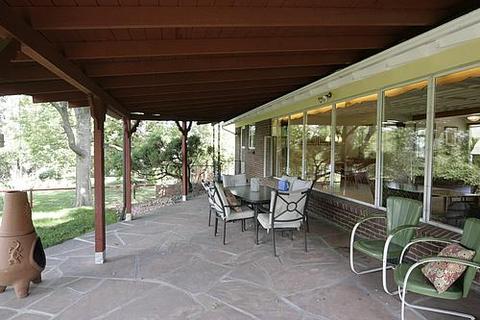 But this celebrated design aesthetic, currently experiencing a major renaissance, can also be implemented outdoors to create a comfortable, livable and nature-centered patio, deck, or yard.

Here are three ways to achieve a midcentury look for an outdoor space. These steps build on each other, so take them one at a time when working on your own design.

Step 1: Pick your outdoor focus point, and then remove all barriers.

David Cole, a Cincinnati-based architect, notes, "The space should be arranged in such a way that takes advantage of its site. If there's a view, (the design) should engage it. If it's meant to be a gathering place, it should be designed in such a way that makes conversation natural and easy."

You can approach this in one of two ways: consider your existing outdoor space and any view you may want to take advantage of, or assess how you would like to manipulate the space to best accomplish a specific goal you have in mind (such as creating a fire pit, in order to make a gathering place).

Removing all barriers is key. Access to nature, and removing visual clutter from your designed space itself, are the main points here. Let your view speak for itself, and let your furnishings and other pieces complement and take advantage of that view.

Step 2: Trade curves for horizontal lines and planes

Once you've nailed down your focus point, it's time to anchor it by building a design with big-picture pieces. The mantra you're channeling will keep you in check – long, horizontal lines and planes are a hallmark of midcentury design, and should be present in many of your choices.

It's important to keep in mind the work you did with step one, particularly removing all barriers. Distracting pieces of furniture or other elements take away from the midcentury feel. The look you're aiming to achieve is one of harmony, in which the big pieces complement the focus point, and draw the eye to it.

Decorative screens, either slatted or in the form of open blocks, can serve double duty as a statement piece while functionally dividing the area.

As Indiana-based architect Donna Sink explains, screens can speak to "a simple, planar expression of a flat surface without a lot of curves – a very Modern aesthetic".

If we take Sink's assessment beyond screens, suddenly things like benches, shelves, bars, low-profile couches and chairs become great options for honing down the look and bringing in functionality.

Even something as simple as paver stones can achieve this; their sharp angles and flat lines are a perfect expression of midcentury design.

Step 3: Bring it all together with decorative elements

The final component to creating a retreat in nature that's inspired by midcentury design is the smaller, decorative elements that will pull the look together.

Approaching an outdoor space with a midcentury mindset inspires us to consider how the big picture pieces can harmonize with the smaller design choices, bringing a cohesive look that is as simple as it is modern. Choosing something to define the space that will make it "festive and inviting," as Cole puts it, while keeping that modern aesthetic is the perfect way to complete the look.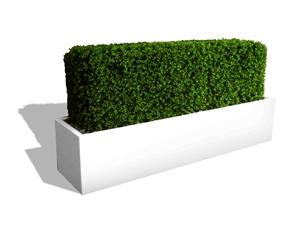 Angular, low containers with simple plants, and the occasional pop of color that coordinates to the rest of the décor or to the focus point itself, are the perfect choice – simple, yet effective and modern. Line them up to create a perimeter around the space, visually defining it, but keep them low enough as to not distract from your focus point.

These three elements – focus point, horizontal lines and planes, and decorative elements that define the space – will not only ensure you end up with an outdoor space that's clearly informed by midcentury modern design, but will also keep your final look simple, inviting and, most importantly, enjoyable.