The scenery. The fresh air. The wildlife. The outdoor adventures. Anyone who's been to one of our 59 beautiful national parks knows how fortunate we are to have them. National parks vary tremendously in their features––from mountains and waterfalls, to fields and canyons––but all are known for bringing priceless memories to those who visit.
While our national parkland is, by definition, federally protected and not for sale, it's not exactly priceless. Make no mistake, there's a dollar value associated with the land, and there's an economic engine built into each state, based on the visitors who come to see that land. Now, thanks to an intriguing 2015 study by the Bureau of Economic Analysis (that establishes average values per acre in each of the 48 contiguous United States), and to data provided by the National Park Service about local economic impact, we can hone in on the real world value of these parks.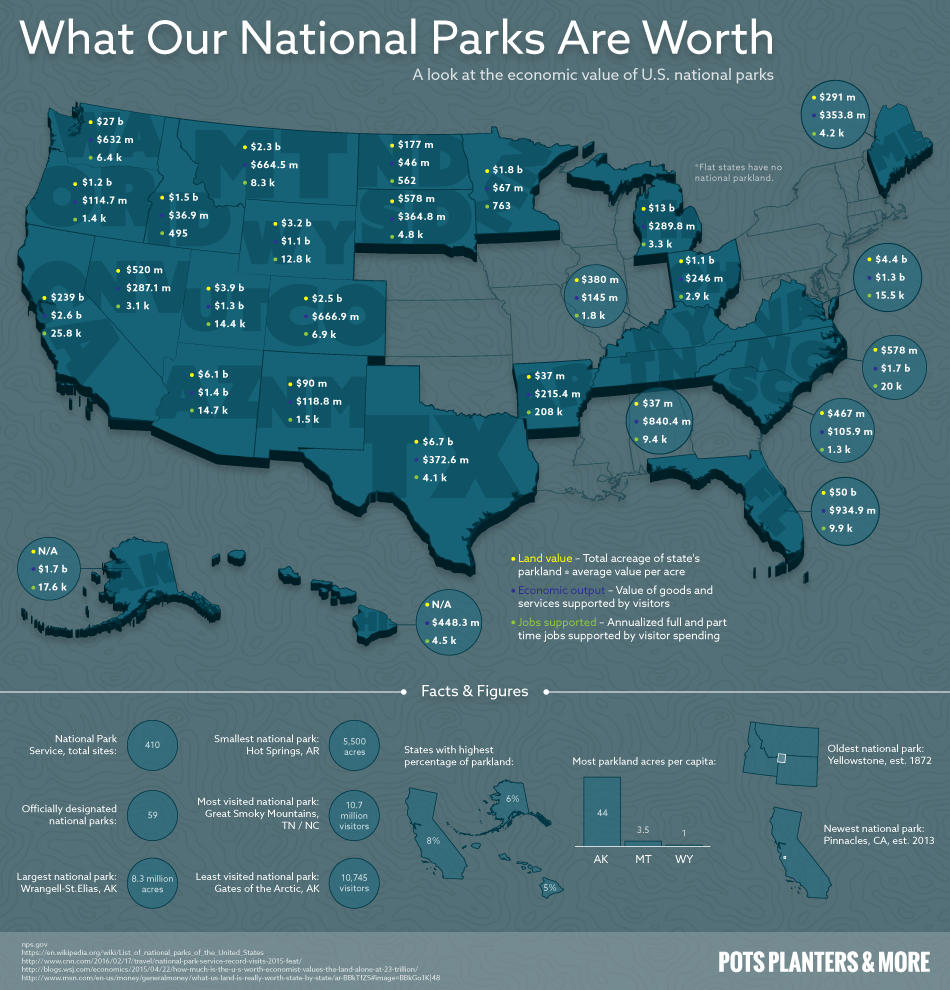 California, which has more land designated as national parkland than any other state (eight percent of its total land, 6.1 million acres), has an estimated parkland value of $239 billion. That computes to $39,092 per acre. California is home to nine national parks, which accounted for $2.6 billion in economic output last year.
Utah has the second-highest number of national parks (five), which include Bryce Canyon National Park and Zion National Park. More than 838,000 acres of the state is dedicated to national parkland, which adds up to a value of $3.9 billion. Utah parks generated $1.3 billion in economic output in 2015.
Colorado boasts four very diverse national parks––one with cliff dwellings, another with canyons, a third with mountainous terrain and a fourth with sand dunes. These parks total 393,882 acres and have a land value of $2.5 billion. Colorado national parks also support almost 7 thousand jobs.
The most visited national park, the Great Smoky Mountains, straddles the border of Tennessee and North Carolina. Nearly 10 million people visit this park each year, which is double the number of visitors to the second most-visited park, Grand Canyon National Park. Tennessee has 5,549 acres of national parkland, with a value of $37 million. Meanwhile, North Carolina designates 271,050 acres as national parkland, yielding a value of $578 million.
Hot Springs National Park in Arkansas is the smallest national park, with just 5,500 acres of land. More than three million people visit national park sites in Arkansas each year, and the state's total national parkland is valued at $37 million ($6,700 per acre). The economic output of Arkansas national park visitors, in 2015, was $215.4 million.
Alaska is home to the largest national park––Wrangell-St. Elias––which is as big as Yellowstone National Park, Yosemite National Park and the country of Switzerland combined! Six percent of land in Alaska is devoted to national parks, or roughly 32.5 million acres. Despite Alaska's remote location, nearly three million people visit the state's national parks each year, generating $1.7 billion in economic output in 2015 alone. However, since there is no reliable data on the average land value in Alaska, no one can say definitively how the value of Alaska's parks compares to other park land values.
Though it may seem national parks are rampant throughout the country, there are actually twenty-three states with no designated national park land. Among the larger states on this list: Illinois, Indiana, Missouri, New York and Pennsylvania.