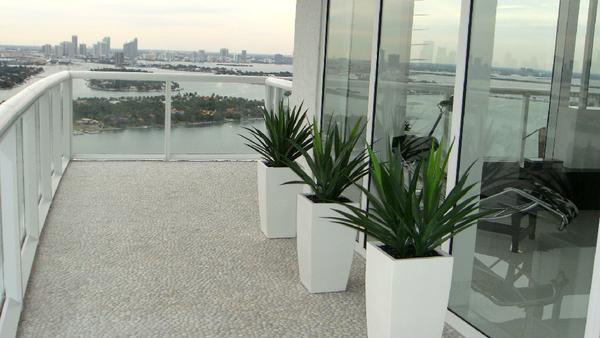 Keeping a patio, deck, or yard's landscape fresh and up-to-date may seem like a challenge.
After all, in any outdoor design, nature - which doesn't change much from year to year - should take center stage.

But modern design techniques can be easily incorporated into outdoor spaces with the use of lighting, color, interesting containers in a variety of shapes and finishes, and by bringing "indoor" touches, like appliances and furnishings, out into the open air.

Creating Rooms Out of Thin Air

Potted plants are a must have for conjuring the feeling of rooms in the open air. According to landscape designer Lori Bolt of Nature's Way Landscaping, long trough planters are ideal for giving the allusion of a wall when filled with tall ornamental grasses or hedges.

Bolt says she sees a high demand among her clients for cityscape design with clean sharp lines to reflect an urban feel. Strategic use of long rectangular planters easily defines an area with a cool edge.

The mobility of potted plants allow for evolving change and expansion over time. Bolt, also, suggests paying particular attention to the ceiling space as well as the walls. Pergolas covered with foliage provide an over head canopy perfect for topping off an "outdoor" room.

Glow

The current movement in lighting is to put outdoor spaces on a dimmer switch. Karen Garlanger of Karen Garlanger Designs, says the idea is to create "glow." She achieves this effect by putting lights under benches or near feet.

Bolt suggests uplighting a tree or the side of a building for simple, not-in- your-eye lighting. LED lights accompany walking areas or stairs to illuminate the way while saving on energy bills and avoiding unsightly wires. Low voltage path lights are understated and don't distract from the quaintness of a design.

Color

Style cannot be achieved without mention of its star player: color. Flowers, fabrics and finishes are the ultimate fingerprint of style. Nature lends her own color palette with sweeping greens and color punches of flowers.

Bolt says gold paired with strong pinks are big this season; she suggests using potted plants in groupings to add color to dark spaces. Garlanger says that she also sees bright colors having their day in the sun when it comes to outdoor fabrics. Teal, bright green and pink are making big splashes along with metal finishes that add sparkle, like this galvanized steel planter.

Fire and Ice

Alfresco kitchens and eco-friendly fire pits dazzle the outdoors with the elements of fire and ice. According to Bolt, stainless steel is still king of the outside kitchen and she is seeing more built in pieces with liberal counter space. L-shapes and U-shapes dominate the layouts with rounded tables softening the boxy look of refrigerators and grills.

The coveted new addition, however, states Garlanger, to any upscale outdoor kitchen is a wood burning pizza oven. Open-air cooking has never been so easy or chic.

Crescent Garden Delano Grouping

Adding Interest

The addition of greenery brings beauty and elegance to the scenery. Because deck spaces can look flat and gray, Bolt suggest using potted plants to add interest. One idea is to do a mass planting or one application of a particular plant in various pots to lend a more natural feel, because that is how plant life grows in the wild. Nesting pots can be placed near each other in a harmonious arrangement to add instant class to a hardscape such as a cement patio.

Smaller pots along with candles (battery-powered are a safer choice) can be placed on tabletops or stair steps to add a snap of drama to the ordinary. After all, our favorite thing about the outdoors is being in close proximity to its natural beauty.

Like any good design, an outdoor landscape's style can take shape over time. Color, lighting and containers are three easy ways to freshen up a yard, patio or deck, and can easily be added on to as trends come and go.