A rooftop patio can bring a sense of resort-like luxury to any business or residence, providing sweeping views, a respite from the sun-baked pavement, and relief from street-level noise and pollution. But, to get the most out of a skyward oasis, a rooftop patio should incorporate essential elements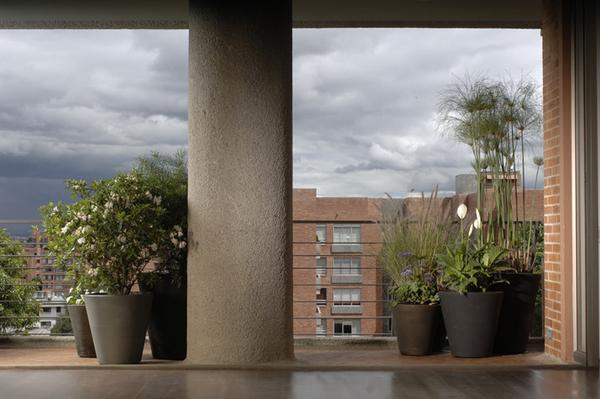 Provide Shade
The open-air benefits of a rooftop patio can quickly turn to a disadvantage in the hot mid-day of summer. A classic awning or table umbrellas can provide respite from direct sun, but there are many ways to get creative with shade:
Peter O. Whiteley from Sunset recommends spicing up a shade umbrella by rooting it in a large planter amongst your favorite flowers. "The umbrella rises from a flowerpot that's filled with three layers, a bottom layer of lava rock, a center layer of concrete, and a top layer of planting mix."
Pergola roofs are a popular option to cool-off a rooftop space, airy and open but easily fitted with colorful fabrics to keep the rays at bay. But, if you're looking for a more natural look, place containers at the four corner supports, and plant with hardy vines that will grow into a living, breathing canopy. "Vines will bring your structure to life" writes Scott Cohen of Landscaping Network. "They not only contribute shade, but color, freshness, and soft romantic fragrances.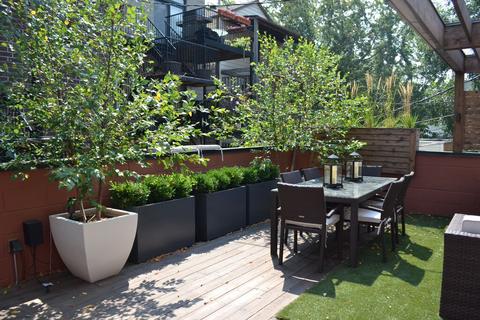 Plan for Privacy
To make a rooftop patio a true oasis, take into account that neighbors in the next building are likely to be utilizing their rooftop space as well. A privacy screen can not only add to the guest's sense of seclusion, but can also act to filter wind, dust, and noise from busy streets below, creating a true outdoor room. Some ideas for adding both privacy and beauty to a rooftop patio:
Fast-growing plants like bamboo can help create an intimate space or soften an objectionable view. "Bamboo add height and modern style to the outdoor space it adorns," writes Kate Simmons for Decoist. Bamboo will fill a planter quickly and give a natural breezy screen wherever it's needed.
Heavy wind or street noise may require fuller "Short dense shrub hedges around just one side can be highly effective as a windbreak," writes Maureen Gilmer for Landscaping Network. "These allow users to sit in the protected area while gazing over the top of the barrier at the view."

Consider Comfort
Tuesday afternoon on a rooftop patio is likely to be a much different experience than on a Friday night. Whether sunbathing with a book or entertaining at a cocktail party, some planning will help homeowners and guests can have an enjoyable, comfortable, and stylish experience.
Carve out different spaces for different purposes, like eating, drinking, and relaxing. Chris Heiler of Landscaping Network notes, "An easy and elegant way to create unique spaces on your patio is to utilize groups of containers. These container groupings control circulation patterns from space-to-space just like inside your home."
A comfortable space is one that indulges and soothes the senses, and as Jean Nayar writing for Bob Vila explains, there are very few décor choices that come close to plants. "Lavender, geraniums, lemongrass, eucalyptus, catnip, basil, mint, and others will not only add a nice touch of color, but they'll also freshen the air as you and your guests brush past them. You can also use plants to create artful swaths of color and texture." The bold pops of color and form of modern containers, will add to the indulgence of the space, and can even be fitted with fountains to add the vibrant sound of running water.