It can seem almost counterintuitive to choose large elements for small spaces.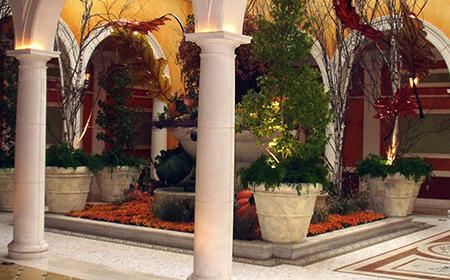 But to consistently pass up those statement-making pieces in favor of more diminutive design pieces might be a mistake.

Whether in a small urban backyard or on a cozy restaurant patio, when done well, large elements make smaller spaces feel cohesive, stylish, and unique.

The possibilities are vast: plant containers, fire pits, furniture, and sculptures come in sizes from mini to maxi. Choosing which fits best in a space shouldn't be contingent only on the size of the space; rather, the decision should hinge on a combination of the size and layout of the space, style aesthetics, and how the elements will complement - not compete with - the rest of the design.

Regardless of which large element you choose, the basics of good design apply: you want your elements to be unified, symmetrical, and placed with purpose, regardless of size.

In the words of Paul Helmer, Principal of Touch of Distinction Color and Design, one of the most important aspects of leveraging large elements in small spaces is to ensure the elements aren't fighting for attention.

"The key is to make sure that the individual elements exist peacefully side by side," says Helmer, "and to keep the big picture in mind. Working with what is already there and making sure that what you add isn't detracting from or obscuring those existing elements is essential."

When we talk about size, we're talking about scale, which is relative. Something is "big" in relation to something else (a tree is bigger to a toddler than to an NBA center, for instance); as such, scale is relative to the size of the space in question.

Larger scaled landscape elements can be large in that they are low and horizontally expansive, such as a fire pit, or tall, like sculptures.

Perspective is also important. By using long, straight lines—a paved walkway, for instance—the eye is drawn through a space. This is especially true if the far ends of the lines are subtly angled toward one another and end at a stunning focal point.

Long lines created by stones, water, or a row of potted posies, trick the eye into thinking a space is bigger than it truly is.

A few tips to make large elements work in your small space:

*Create a focal point. Whether it's a large, square planter filled with gorgeous blooms, a pergola that shades an intimate seating area, or an oversized sculpture, a focal point leads the eye and creates the feeling of a larger space.

This doesn't mean the focal point has to be the only interesting part of your yard; include a cluster of plants in medium-sized containers or a secondary seating space in adjacent areas to maximize space and lend visual interest.

*Embrace the unexpected. Embrace the unique opportunities of a larger scale element by simultaneously embracing color, texture, or other unique elements.

For example, opt for a fire pit surrounded with a ring of comfy chairs but also include softer elements in other areas of the space that offset the stone and sparseness necessary for the fire pit.

According to Helmer, varying elements and mixing textures creates visual and tactile interest without clutter, which diverts attention from the size of the space.

*Think vertical rather than horizontal. Helmer's favorite large-scale element are boulders because they add depth, dimension, and texture and can naturally create a backdrop that enhances vibrant colors and the textural elements of plants, shrubbery, and foliage.