For the first time, Pantone has chosen the blending of two shades - Rose Quartz, a gentle pink evoking a summer sunset, and Serenity, an airy, weightless blue - as the 2016 Pantone colors of the year.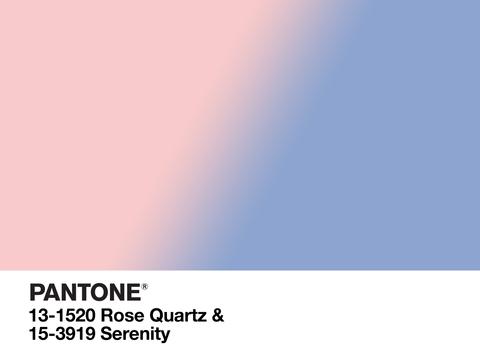 Imparting a sense of peace and calm, this year's top shades are a quiet departure from the rich, deep hues of recent seasons, ushering in a mellower tone and endless opportunities to update indoor and outdoor spaces for on-trend yet timeless appeal.
While choosing accents to complement this trend, select planters in softer shades. On our fiberglass planter collection, hand-painted Antique White, Pink Mimosa, and Silver Polish finishes reflect the gentle tones of today's color trends, while the neutral colors of our molded resin planters blend effortlessly with calming pinks, lavenders and blues.
On-trend shades are also easy to find in the plant world, with many muted blooms available to effortlessly add a soothing effect to patios, lobbies, decks, and landscapes.
The Festonada Urn Planter in gentle, blushing colors imparts Old World charm, while a clean, minimalist accent like the Lyon Box Planter in a neutral finish like gunmetal metallic or stately bronze offer a sophisticated contrast to rosy or pale blue blooms.
Many floral options complement the new softer trends.
This hydrangea has the unique ability to bloom shades of pink and blue on the same plant without needing to adjust the alkalinity of the soil. Plant in spring with morning sun and afternoon shade, and its beauty will last all summer and into the fall. Does well in Zone 7 or further south.
Petunias can be found in an array of soft colors including the popular prismatic pink-lavender-blue shades. The sweeping flowers will spread a luxurious and velvety texture to any space. These glamorous stars love the spotlight— they need at least 6 hours of sunlight, plenty of fertilizer and abundant water.
Minifamous Double Apricot Calibrachoa
The lush look of a rose without high-maintenance, the Minifamous, offers a double serving of color. Onlookers get lost in the charm of this peach bloom. The calibrachoa from Selecta is early-to-flower, semi-trailing and medium vigor. Ideal for containers in a mixed array of sizes. Likes full sun and moderate to moist water-to-soil ratio and does well in Zones 9-11.
This soft cameo pink flower will give your patio or coffee table an angelic touch. A double row of pink guard petals and a big full bloom will add lush softness to any arrangement, gently nurturing your living decor into the new trends. This mid-season peony is low-maintenance and hardy with big leaves and sturdy stems, known for its height. Does well in partial sun and with moderate watering, Zone 2 and Zone 8.