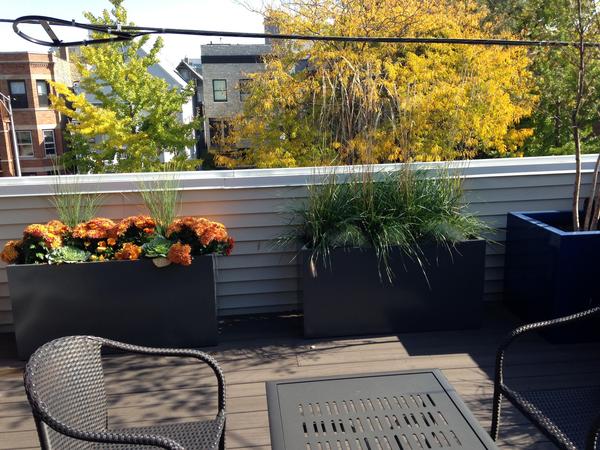 Today's artful landscape design seamlessly blurs the lines between indoor and outdoor living, creating intimate spaces in the open air.
Guests feel secluded in tucked away areas allowing for a more private entertaining experience. The warmth of the sun is met with canopies and brightly hued umbrellas while the cool night breeze is warded off by cozy fire pits and candle light. Inventive ways of placing greenery converts patio spaces to organic hideaways and flowering plants add a touch of nature's paintbrush.

Create Outdoor Rooms

Secluded seating is the key element in creating "rooms" outside. A creative use of screens, walls and potted plants set off a space, so people feel like they have a private area outside. Hedges break up spaces or a larger structure like a canopy or pergola gives the appearance of a room. According to landscape architect Ben Baker of Wightman & Associates, Inc., a new trend in creating more organic spaces is the use of living walls. Much like the green roof movement, these walls are composed of live plants and make the space breathe with cellular life.

Anchor Spaces

Large potted plants anchor and define spaces allowing for the perfect way to convert larger areas into small, cozy retreats. The versatility allows for custom made touches that can be easily changed throughout the seasons. Trees, hedges and flowering plants naturally contour the shape and color of the outdoor rooms. The portability of potted plants gives endless possibilities for evolving esthetics; ceramic pots give a more classic touch while metal moves towards the industrial. Color accents any design, so rotate perennials and annuals with greenery and trees for a seasonally changing color scheme, says Baker, adding that a potted plant also makes a great marker for entry points.

Water and Fire

Nature's two most exciting elements, water and fire add drama to the outdoors, while alluring people to gather around for the show. Water fountains create natural white noise to veil background conversations and a pond or pool brings visual refreshment. Fireplaces and fire pits invoke a homey feel, drawing people to gather around for warmth and camaraderie.

Indoor Elements

A common theme among landscape architecture is using indoor decorating accessories...outdoors. Potted plants, mirrors, candles and artwork add an inviting touch (just make sure they can withstand the elements). Chandeliers hung out-of-doors under a patio or canopy brings the elegance of a grand dining room to the romance of sitting under the stars. Soft cushions and plush throws in warm, soft colors make guest feel right at home on any patio.

Blend with Nature

Thoughtful landscaping uses nature itself to convert open spaces to smaller refuges of tranquil escapes. Using stone or tile pathways that lead to a single entry point allow guest to enter their own oasis and feel undisturbed. Loose gravel slows down foot traffic and connects us to nature, points out Baker, with the organic crunch of stone beneath our feet. Potted planters filled with fragrant flowers beautifully accent doorways and diffuse the air with summer's scents. Outdoor gathering spaces stimulate all the senses for a unique and charming time spent with family and friends or in solitude.

The comforts of the indoors and the awe and beauty of the outdoors make for a happy marriage, weaving in elements of interior décor with nature. Colors can complement and accent, furniture can make a statement or blend, all working together to achieve easy living while enjoying the outdoors. Dissolving the line between inside and outside will foster lingering conversations near fire pits and still waters, allowing guest to get lost in the beauty of a bloom or the singsong of nature.