Whether a space is meant to reflect a laid-back lifestyle, evoke a sense of history, or imbue breathable simplicity, the hues, accents, plant containers and plants chosen are vital elements used to tell its story. Thoughtful choices, well-appointed quarters and an artful eye bring it all together.
Anna Brooks, CGIP, certified landscape designer and partner at Arcadia Gardens in Southwest Michigan, lends her expert opinion with tips to define the desired style of any landscape, plantscape, or indoor space.
"Color tendencies, favorite plants, and maintenance expectations are all decisions that when combined with the overall intended usage of a space, can indicate a strong preference to a particular style," says Brooks. She explains that helping her clients pinpoint their personal style starts with an interview often conducted on the property itself - but even so, "The architecture of the house, building, or structures is what essentially dictates the design of the outdoor space and gardens."
If a client's style and space don't quite match up, Brooks says, the melding of different esthetics can sometimes create a meeting point between the two. "Occasionally, it works to mix styles - think drifts of English garden-styled borders to contrast the strict lines of a contemporary home - but matching the styling of the landscape to the forms of the house will create familiar spaces."
Taking time to evaluate the architecture of a space and weave in personal style within that principle will create more cohesion and harmony. "I like to pick up on the architectural lines and stylings of a building, and bring them down onto the flat planes of the landscape, whether it be with site lines through the space, repeating a pattern as a decorative border, or with the detailing on a planter," explains Brooks. Creating a complete picture that starts with the front lawn and flows through the building to the back patio rewards guests with distinction and elegance.
Country French and English Garden
Ripe with charm and Old World elegance, the European country look evokes feelings of romance with classic touches like toile pillows and wrought-iron fleur-de-lis accents. A typical English or French Garden in its more informal setting is comprised of smaller spaces teeming with flowers. "Large terra-cotta pots with boxwood add order and calmness to the chaos," says Brooks. Using large planters to house boxwood or weigela and then positioning to create outdoor rooms will give a sense of privacy. Add a gravel path and a vine covered fence with tall planters to highlight a gate door and guests will succumb to enchantment. The Festonada urn planter looks like it belongs on an English estate; fill with a mix of hued blooms or a sculpted topiary. The Garland vase planter adds a sophisticated touch when filled with classic English flowers—think poppies, delphiniums, lavender and, of course, roses. And nothing says French like a potted citrus tree . . . or three.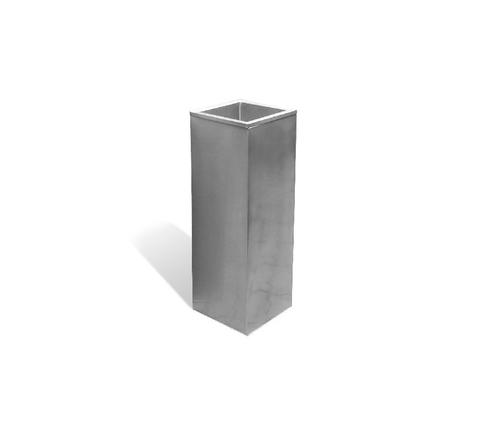 Contemporary
Today's modern design delivers a strong sense of straight lines and sharp angles. White and grey hold court and simplicity is the emblem. A weather-resistant fiberglass planter in a clean geometric shape, like the Badalona rectangular planter, perfectly suits this aesthetic particularly when offered in one of several neutral, hand-painted finishes.
But don't overlook the effect of an industrial material when choosing a planter to complement a contemporary design. "In my mind," explains Brooks, "contemporary equals large drifts of very textural plantings, contrasted with hard raw elements- unfinished wood, rusting steel, natural stone, aged concrete." Steel planters like the Miramas tall, square planter house a softening of color that brings the beauty of nature to more industrial spaces, or try a water garden in a metal bowl planter as a point of living interest.
Brooks adds, "I love the look of large weathering steel planters used as boundaries and screens, with soft banks of ornamental grasses or masses of a single flower. Add the sparkle of water and a glass art installation and you have perfection! These landscapes are ideal for showcasing a client's sculpture collection."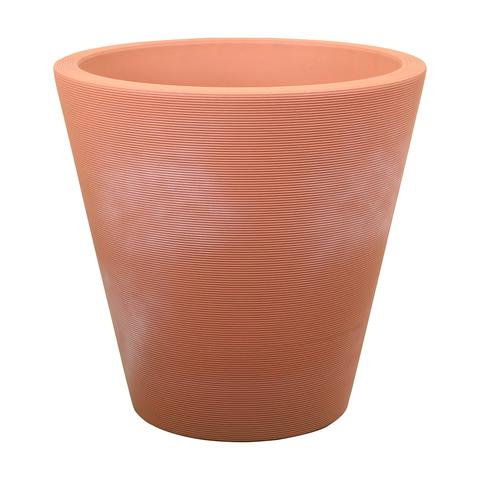 Cottage There is something about the backdrop of water that eases a person into a state of relaxation. Hallmarks of this look include palettes of soft water-inspired tones and comfy, lived-in furniture that just begs guests to put up their feet. A breezy and informal hotel lobby or café deck with a view of sand and surf are perfect for the lake house style, and a bright and airy cottage garden is a must. "It's a very summer heavy landscape with colorful annuals, pretty hostas and astilbes, lots of hydrangeas," points out Brooks.
Lining the edge of a patio with well-spaced low profile trough planters will add a touch of color to the azure backdrop of the lake or ocean. The Madison planter in weathered terracotta and soft grey fits in organically with the lake house vibe; gather them around entryways or bring the garden indoors with a container composition. "Planters and pots, filled with herbs, geraniums or petunias, tucked into the empty spots provide colorful easy care accents. These gardens are all about socializing and spending the day on the water," advises Brooks.