Transitional style is borrowed from the disciplines of architecture and interior design, and brings together elements of the traditional and the contemporary to create a familiar, timeless, elegant style.
Transitional style blends the basic elements of line, color, and texture found in both traditional and contemporary designs and can be used in indoor spaces as well as patios, decks, landscapes, and other outdoor living spaces. When creating a transitional design, keep the following principles in mind:
Line:
Jeffree Findley of New Leaf Landscaping describes contemporary landscape design as relying on "clean lines and square edges with minimalistic visuals." For a transitional design, try balancing these right angles and parallel lines with a gently curved pathway, or feature a few organically shaped planters throughout your planting areas.
When organizing a space, "the lines of transitional design are typically straight and clean with the occasional soft, sweeping curve thrown in for good measure," writes Michelle Radcliff for Love To Know. "This style creates a space that is not too manly and not too frilly, making it comfortable for all."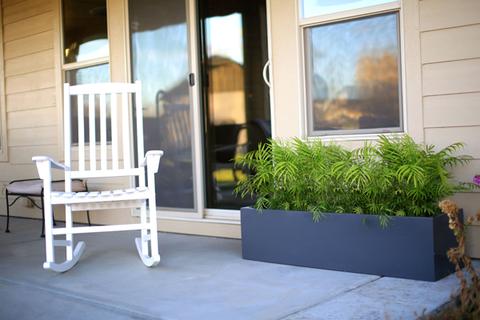 Color:
"There's a hint of minimalism about transitional style," writes Lisa Frederick of Home Portfolio, "and it extends to the palette. Colors rarely stray beyond neutral boundaries, from warm whites and pale tans to shots of coffee brown, charcoal, and even black."
In the landscape, choose raw materials that create a neutral palette without resorting to paint or adornment. Opt for hardscape elements that are "the natural colors of concrete, steel, smooth stucco, and stone."
While most of your colors will be neutral and natural, Melanie Serra of Interior Revivals writes, Transitional Style can benefit from "a splash of bold color to add depth to the space." The easiest way to including a pop of color here and there is to feature a brightly-colored planter that stays true to the clean lines of the design, but introduces a splash of intensity to the landscape.
Texture:
In an article for Huffington Post, Karen Williams observes that, "While transitional spaces are often subdued when it comes to color, that doesn't mean they're boring at all! Transitional spaces are often delightful explorations of texture, using everything from interesting tile surfaces to polished or rough stone to provide visual interest." When designing hardscapes and sitting areas, be sure to include grainy wood, rugged concrete and stone-inspired planters, smooth glass, and cool metals to provide a sumptuous treat for the eye.
Plants and planters go a long way to broadening your use of texture in the transitional landscape. The leathery, corrugated leaves of a large hosta can be juxtaposed against the polished surface of a steel planter, or the airy clouds of Muhly Grass floating above the ruffled ribs of a spiral planter.
Transitional style is a bit of the old a bit of the new, tossed together and reimagined. As Shelly Little of Freshome describes it, transitional style is for those "who want to toss the rules out the window and merge transitional and modern elements. It is not an eclectic mess; rather, it is only lightly adorned with accessories, a clean space with added texture and a neutral color palette." Whatever your design sensibilities, you'll be able to relax and enjoy the simple and elegant space created from the adaptation of this fresh new landscape style.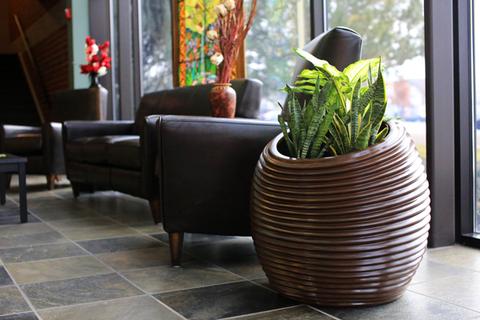 When paired with warm neutrals and clean lines, the unexpected, organic shape of our large Spiral planter can add a welcome touch of texture and interest to a transitional design.