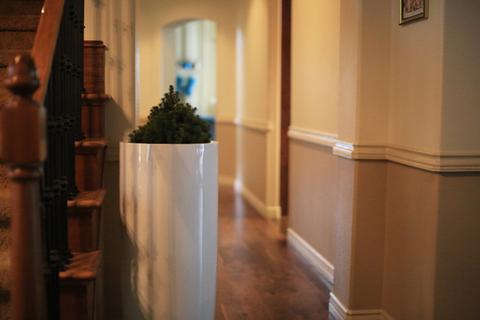 Carefree and multi-dimensional enjoyment and integration of outside spaces and the natural world are just a few of the interiorscape trends of 2016. We consulted with landscapers, designers, and industry insiders to compile the hottest trends of the modern indoor landscape.
Blurring The Line Between Interiors and Exteriors
As lives get busier, homeowners, guests and customers crave the best of both worlds: convenience and comfort outdoors, and natural tranquility indoors. As a way to expand interior landscapes, designers imagine the outdoor landscape as an extension of the indoors.

"Outdoor rooms" create seamless movement from the house to the yard without sacrificing the comforts of home, incorporating elements like fade-resistant and waterproof fabrics, carpets, lamps, chandeliers, fans, complete kitchens and entertainment systems as well as stylish indoor and outdoor plant containers that act as functional art, complementing color schemes and aesthetics to create a consistent flow between indoor and outdoor design.

Organic Origins
Decorators and designers look to the natural world to add warmth and elegance to interior landscapes:

Natural elements like rocks, sea shells, jars of beach sand, wood, and straw can bring a natural touch to interior design while complementing a variety of color schemes and styles.
Water features and fountains provide relaxation and a trendy foil to a fireplace. "A water feature is always a focal point, whether it's outside in the garden or indoors in the living room, bathroom, or other space," writes Stefan of Homedit. "You can organize seating around it, or place it in a corner of the room and turn the area into a relaxing space."
Tabletop water gardens, created by filling a table-top planter and adding plants, bring the tranquility of water and the rich, saturated colors of bog plants indoors. Low maintenance and a wide variety of bowl-style planter options make a miniature oasis a fuss-free yet impressive conversation piece on a table or countertop.
Interior Edibles
New cultivars of dwarf edible fruit trees replace traditional houseplants, introducing new and vibrant colors and giving new dimensions to indoor style.
Citrus. "One of the most popular new trends in gardening is growing indoor citrus trees." writes Pioneer Thinking. Dwarf citrus trees, bred to grow in small spaces and medium-sized containers, are a growing trend for their bright yellow, orange, and green fruits, and for those who want homegrown citrus for cooking, drink mixes, or garnish.
Avocado. As commercially-grown avocado becomes more expensive and difficult to find in quality, more gardeners are opting to grow their own. "Dwarf avocado fruit trees are ideal, as they bears fruit throughout the year," writes Farhan Ahsan for The Self Sufficient Living. A high ceiling and substantial-sized planter is required, as even these dwarf trees can reach up to ten feet tall.
Banana. "Bananas truly bring a tropical feel to your home, because their foliage gets lush and full, they supply fresh fruit, and they really look like something straight out of Hawaii." writes Weekend Gardener. Besides their tropical appeal, banana trees are low maintenance, do well indoors, and don't require a pollinator.
Fuss-Free Plants, High-Style Planters
Interior landscapers recognize that today's homeowner wants to spend more time enjoying the interior landscape than preparing it to look its best.
"When it comes to selecting bigger, more architectural potted plants for home decor, the trend is clearly focused on no-mess, low-maintenance plants." writes Steve Whysall of the Vancouver Sun.
New cultivars of Sansevieria, Philodendrons, Dracena, and Croton provide easy care with no discarded flowers or seeds. "These are reasonably cheap, very versatile to locate, need little care, have no insect issues and are still part of the latest design trends."
Focusing on low-maintenance plants allows designers and discerning homeowners to focus their energy on choosing and arranging rooms centered around furniture, art, and other important decor elements like stylish indoor designer planters.