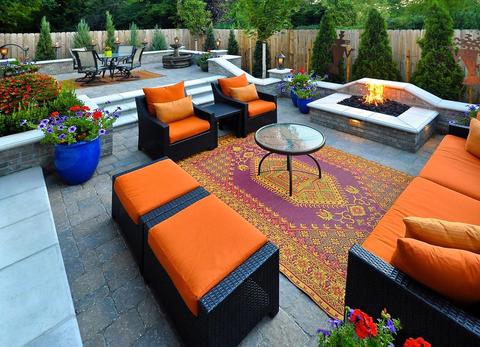 A multi-level outdoor space naturally divides itself into coveted outdoor rooms, complete with secluded areas, natural privacy, and custom-made nooks and havens for dining with friends, escaping with a good book, or having a conversation by a dancing fire. Each level easily has its own designated purpose, providing a ready-made blueprint for backyard design.

But multi-level outdoor spaces can offer challenges to a designer. Here Ben Browne, president of Colorado-based Browne & Associates Custom Landscapes, shares tips and ideas for working with a multilayered yard.

Add Texture And Color With Planters

Multi-level yards frequently boast large areas of decks and patios, which can seem dull and flat when lacking texture and levels. "This often gives you the opportunity to incorporate planters that will "green" up what is usually a significant amount of hardscape," say Browne. "Without greening up the hardscape, the area can have a cold feel that comes from so much stone. These planting pockets are very important."

Soften up hardscapes with well-appointed planters to not only add color, but to create a lush inviting environment. A row of tall rectangular planters serves as a perfect privacy screen, especially when topped with dense hedges. Planting flowers and bushes that spill over stairways and decks and tumble out of terra cotta pots lends towards a more natural wild look, fitting of a cottage garden. A sharply-edged lawn or shaped hedge reads modern and clean, pairing well with sleek metal planters.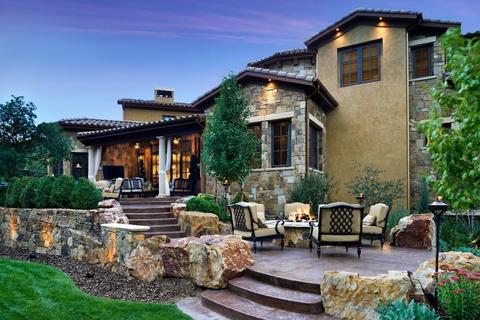 Defined Spaces

"Designing with multi-level patios is a fun way to designate each section of the area and to define such areas as living space, dining, and cooking. The multiple levels highlight these different areas," explains Browne. Furthermore, he suggests initially thinking about the furniture that you envision. "By starting with the furniture, you will know what size of space you need for your outdoor living area," points out Browne. A cafe table, colorful Adirondack chairs or a large ornate planter all further a space's purpose and design.

Labeled spaces make it easy for guests to acclimate to a backyard area. A grouping of tables on a restaurant patio for al fresco dining easily signals its intended purpose; while surrounding the area with shrubs, housed in tall planters, adds a living wall of privacy. A small landing can reach its full potential by creating an oasis: teeming with a variety of potted plant life, this will be a sought-after escape.

"Almost every residential outdoor living area can use these three types of spaces: Living, dining, and cooking. Any outdoor living area we design and construct has a minimum of these three types of spaces," Browne says, illustrating the importance of multi-level spaces.

Retaining walls and steps are part of the package, and thus lighting plays a key role - not only to create ambiance, but for safety purposes as well. Browne suggests installing downlights and outdoor lighting to "create an awesome effect at night."

Connect the Dots

"Multi-level spaces create an opportunity to be clever about how you connect the different levels," Browne says. Making each plane its own is the art of connecting and defining. Little touches like accent colors that complement the overall affect and plants that repeat from tier to tier seamlessly tie everything together. Wooden or stone stairs add texture and intrigue; place smaller potted plants on steps to create a sense of flow that furthers the journey between the various expanses.

With the right combination of texture, color, and definition, multi-level landscapes allow visitors to both get "lost" in secluded spaces and socialize when desired.